drawings - VISAS website
extract from
Juan Garrido Salgado
Children at Woomera
in gratitude to the artists that work as volunteers to make the life of the children in detention centres a bit more bearable by the notion that there are people with real hearts pumping in their chests in this country they were brought by their families looking for refuge, and not only mechanical inanimated humanoids with the power to lock the innocent and hide behind legal loopholes, by this i am trying to say cowards!
with the eyes of children
colour blind in the desert . . .
each one of these drawing for
for our stone's heart . . .
each one of these drawings
Consunnnnnononomo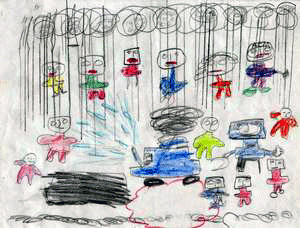 S. Diego,
S. Francisco,
Detroit, Atlanta,
California, New Y.,
Washington

Melbourne, Sydney,

Adelaide, Brisbane

Zaragoza, Vitoria,
Madrid

Bogota, Medellìn,
Bucaramanga, Cucuta,
Barrancabermeja,
Barranquilla, Cartagena,
Cali, Sta. Maria,
Valledupar

Berlín, Wupertal,
Colonia

/DIV>